Ultra-Trail Australia 50Km
OCEANIA'S ELITE TRAIL RUNNERS CHASING UTA50 CROWN 
A host of Oceania's top trail ultrarunners will battle it out over 50km at the 2023 Ultra-Trail Australia by UTMB this Saturday 14 May.  
The men's UTA50 race features a strong field with a blend of youth and experience, including Scotty Hawker (NZL), Charlie Hamilton (AUS), Ben Duffus (AUS), Piotr Babis (POL), and Blake Turner (AUS). 
Hawker, a 2019 UTMB podium finisher, and the up-and-coming Hamilton, racing the 50km distance for only the second time in his career, look set to go head-to-head for the UTA50 title. 
The Kiwi is hoping to put a disappointing start to the year – after a DNF at Istria by UTMB – behind him as he looks to UTA to kickstart his season and build toward the prestigious Western States 100-mile race taking place in California, US, in June, and then Ultra-Trail du Mont Blanc's CCC (100km) in September. 
"It's unfortunately been a bit of a bumpy ride the last few weeks since I raced at Istria by UTMB in Croatia. Fortunately the last seven to 10 days have been better and a timely confidence boost," said Hawker. 
UTA is an event Hawker has enjoyed success at in previous years, finishing second in the UTA100 race twice – in 2022 and 2015. He will be racing half that distance this year and is hoping to put together another strong performance. 
"It's a totally different mindset going into a 'shorter' race. Strategy will be slightly different but still focusing on running my own race," he said. "A successful race for me is finishing the 50km strong, pain free and ideally somewhere on the podium. After two second places at UTA it would be nice to have a different colour medal for sure and to celebrate the 15-year anniversary in style." 
Canberra's Charlie Hamilton has been a dominant force over the 20km+ distance in the last couple of years, winning the UTA22 in 2021 and claiming victory over 27km at Ultra-Trail Kosciuszko by UTMB in December. 
In February, the 23-year-old stepped up to the 50km distance for the first time at the Tarawera Ultramarathon by UTMB, finishing third – a race Hamilton said he learnt a lot from. 
"Preparations for the UTA50 have gone really well. I spent a bit of time training up in the Blue Mountains on the course which gave me plenty of confidence. We've got a good training group down in Canberra who keep me honest and help me get the best out of myself in training," said Hamilton. 
"TUM50 was a great learning experience. In my first 50km I was bound to make plenty of mistakes, and I certainly did. I've worked on these and hopefully, they won't be an issue on Sunday. I finished that run a little disappointed, and I've been using that as motivation in preparation for UTA." 
Hamilton is expecting a fast and close race in the UTA50 this year, with the 15th anniversary of the event attracting some of Oceania's best trail runners. 
"It's going to be very fast this year. Just to mention a few guys, Ben Duffus, Scotty Hawker, Piotr Babis and Blake Turner are all very quick so it's going to be such a fun day. I think the final climb out from the river suits me, so it's just a matter of getting there in good shape. It's going to be a drag race out from the valley. 
"UTA was the first race I heard of when I got into trail running. Not only has UTA been a drawcard for international-level competition, but it's been the site for countless runners' first ultra trail race, which is so special to the Australian trail running scene. I feel so lucky to be able to run on the lands of the Gedumba and Therabulat clans, and I can't wait to run 50km through the beautiful Blue Mountains on Saturday," he said.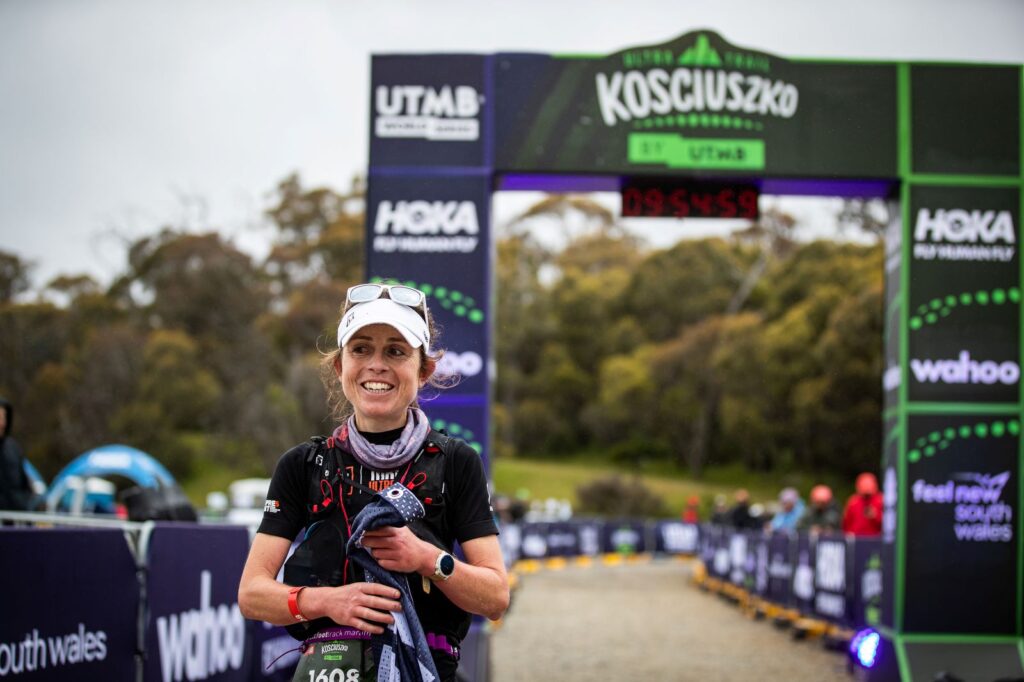 In the women's UTA50 race, Newcastle's Steph Auston will line up on Saturday as the pre-race favourite after impressive performances over the past six months including second and first respectively in the 100km races at the Tarawera Ultramarathon and Ultra-Trail Kosciuszko. 
"I'm feeling good, and I have been really enjoying my running so I'm excited to have a good hit out at UTA," said Auston. "I guess my main competition is always getting the best out of myself. I haven't done the 50km since 2018 where I ran just over five hours so I hope I can do that or maybe better. And obviously have a good race against all the other runners there too. 
"This time last year I got a stress fracture and never made the start line of Western States and had to earn my way back in, which I did at Tarawera, so my approach this year has been a lot more relaxed, nothing crazy hard, nothing crazy long, just keep the spring in my step," she said. 
Auston will be hoping for a strong race at UTA as she prepares for Western States in June and is looking forward to experiencing the community vibe that has become synonymous with UTA. 
"It would be a big confidence boost to run well at UTA, though most of all I'm looking forward to catching up and seeing all of Australia's trail runners all together again. The energy is infectious, and I hope it will continue to inspire me to run my best both at UTA and then at Western States. I sort of feel as if I am representing this community at a world stage and want to do them proud.  
"I did my first trail race at UTA at the inaugural 22km event so to still be at UTA and see it grow to such a huge event has been awesome. Trail running is such a welcoming community, I feel so lucky to share the trails with such a great bunch of people and will keep coming back," she said. 
Sydneysider Gemma Jenkins is a previous winner of the UTA50, back in 2019, and finished as runner-up last year. Despite her previous successes, the 43-year-old isn't putting pressure on herself to win or podium. 
"I'm really looking forward to it, I feel great, and training has gone well. I'm hoping to finish the race strong and in good spirits, regardless of place. It's all about the team spirit for me. My aim is to run happy, finish strong and soak up some post-race stories with the girls afterwards," said Jenkins. 
"These large events are important for the trail running community in Australia. Iconic events like UTA draw more people to the sport year after year. It's been pretty awesome seeing the explosion of trail running in this country, especially amongst the women," she said. 
The women's UTA50 field will also be highly competitive, featuring the likes of 2023 Noosa Ultra-Trail 50km winner Juliette Soule (AUS), 2022 Doi Inthanon by UTMB 50km champion Hau Ha (VNM), and 2023 Tarawera Ultramarathon by UTMB 50km fourth-place finisher Renee Cardinaals (NLD). 
Ultra-Trail Australia is a qualifying race for the UTMB World Series Finals at UTMB Mont-Blanc, with the top three male and female elites in the UTA50 directly qualifying for UTMB's OCC (50km) race.  
For more information visit https://www.ultratrailaustralia.com.au/  
Related links
Ultra-Trail Australia by UTMB 2023