Pellow and Mattas Win Ultra-Trail Australia 100
In the second event of the Ultra-Trail® World Tour 2021 Pellow and Mattas Win Ultra-Trail Australia 100
Top honours at the 2021 Ultra-Trail Australia have gone to Matthew Pellow and Cecilia Mattas, winners of the male and female UTA100 titles. The pair were both first time winners at Australia's largest trail running festival, coming out on top after 100km around the stunning Blue Mountains course.
Wollongong based runner Pellow crossed the line in 9:51:32, almost 13 minutes ahead of second place finisher Kiwi Vajin Armstrong, with Michael Dimuantes a further five minutes behind in third.
"It feels ecstatic, coming into the race I just wanted a challenge, an adventure, I was up here in Katoomba a couple of months ago and I saw how wonderful the tracks are and I saw the event pop up and I thought I had to come and do it," said Pellow. "I only entered two weeks ago, I knew I was fit, I had the event in the back of my mind, but that was totally unexpected. I thought if I got lucky I might have got a podium or something like that, as I was racing I was feeling good, the miles were ticking over and I didn't seem to lose my strength very much and then I managed to hold it together at the end there.
"That last 10 kilometres coming up and over all those rolling hills and then up Furber Stairs was brutal, I wouldn't wish it upon anyone but somehow I feel like I'm going to end up back there again," he said. "It was quite technical out on the start, but you had Warragamba Dam on one side and a great view on the other and it was pretty distracting. I really liked the style of trail that they dished up, but the person that designed this course is a mean, mean, person, I found myself wondering that multiple times throughout the race. If you want a challenge that's a real challenge."
While 2021 may be Pellow's first visit to Ultra-Trail Australia he's no stranger to endurance racing, having previously been a professional triathlete, racing at both IRONMAN and IRONMAN 70.3 distances. "I was racing professionally for about six years and am still doing triathlons, I went up to Crackenback and did the off-road triathlon in February and I'm actually Australian Champion for that which was a bit of a breakthrough performance for me," said Pellow. "At the same time as I was doing all the mountain biking I've kind of fallen in love with trail running as well and I've got a feeling there's going to be a little bit more ultra-runs in my future.
"Today was my first time higher than 66km, so after 66km it was all uncharted territory and I'm afraid you're probably going to see me back here in the future," he said.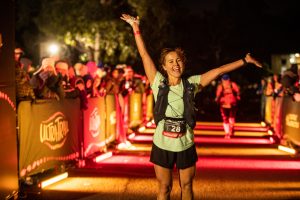 Finland's Ceclilia Mattas certainly made her presence in her adopted homeland known, winning the women's UTA100 title in just her second attempt at the race. Mattas, who is now based on the Sunshine Coast, took victory in 11:35:40, with Sophie Brown second in 11:51:12 and Sarah Ludowici third, two minutes further behind. "It's amazing, I can't describe with words, I was not expecting to finish first, I was hoping for a good run and just so the body and mind feels good and they aligned and I feel amazing, for me that's all that matters, this is just a bonus," said Mattas. "It's been so windy but somehow I liked it, it was fresh, coming from Finland that's why the weather suited me so well and why I went so well, I enjoyed that freshness." Mattas ran at her own pace for the entire day, steadily working her way through the field. She found herself the sixth female early on and by the halfway mark had taken the lead, extending her advantage as the race progressed, with Brown and Ludowici neck and neck for the final stages in the battle for second and third. "The course was really good, I did this race two years ago and I'd forgotten so many parts, I was saying 'oh wow did I run here last time as well,' so it was nice, I recognised a few parts but it was a super nice course," said Mattas. "It's amazing running in Australia, I did a little bit of trail running back home when I was doing swim-run, but not only trail running, but the nature here is so pretty so I think that's the best way to explore around here."
The 2021 Ultra-Trail Australia has brought together trail runners, their friends and families from across Australia and New Zealand, and Mattas enjoyed the atmosphere out on course. "Everyone was cheering all day, people on the course, there were people in tears, it was so good, I just got so much energy from them," she said. "I didn't need any music, I had it in case I was in a bit of a deep, dark hole but the people brought me back up and the runners as well, we were just cheering each other on out on course."
Trail runners taking on UTA100 have 28 hours to complete the course, with the final cut-off time at 10.54 am this morning. Overnight runners have been streaming across the finish line at Scenic World, welcomed home by family and friends.
Racing at Ultra-Trail Australia began on Thursday 13 May with UTA11, with UTA22 held on Friday and UTA50 and UTA100 on Saturday 15 May.
For more information on Ultra-Trail Australia visit https://www.ultratrailaustralia.com.au/
Photos – Tim Bardsley-Smith