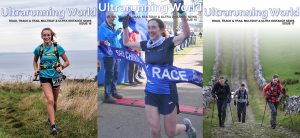 The latest issue of Ultrarunning World magazine (UWM)  is an interesting mix of articles by ultrarunners from the UK and the USA and from France Mireille Cormier writes about her 6 day race in Wychwood, South Africa. There's an article by Kathy Vaughan who with her husband Ras Vaughan run UltraPedestrian.com and share their adventures hiking along the Grand Enchantment Trail,  which runs 770 miles between Phoenix, Arizona and Albuquerque, New Mexico.
Ultrarunning is becoming more clearly defined as its popularity grows and the different disciplines have boadened the sport into a multi-faceted social environment. With short, medium and long ultras, multidays, stage races, journey runs and FKT's  providing a lot of options and the latest trend is the Back Yard Ultra popularised by Gary Cantrell, RD of the Berkley marathon,
Thru-hiking has set in place a loose framework that trail runners have been taking advantage of to set Fastest Known Times (FKT's) on more and more trails and routes as people seek new avaneues to challenge themselves and to nurture their athletic presence in less well explored fields. Serious runners have taken the time to set records on long distance trails including Mike Wardian in March this year on the 1015 km Israel National Trail (Israel) 10d 16h 36m. Other well known ultrarunners include Peter Bakwin, Marcy Beard, Dakota Jones, Anton Krupicka to name a few. Checkout Fastestknowntime.com for a list of trails and records.
UWM looks at the stage race format which has been growing at an increasing rate over the last 10 years with varying numbers of stages and distances that cater for many levels.  The format came into its own with Patrick Bauer in the 1983 inaugural edition of the Marathon Des Sables. In 2017 the MdS experimented with another event in Peru and a half MdS for beginners on Fuerteventura in the Canary Islands. RacingThePlanet have been hosting 250 km self-supported races since their inaugural Gobi Desert in 2003 and their annual 4Deserts series was voted the leading endurance footrace series in 2009-2010. Other long running events such as the Kalahari Augrabies Extreme Marathon (RSA), Coastal Challenge (CRC), Desert Rats (USA) and about a 100 others continue to flourish.
How do we define a stage race today? In the next article in this series we look at what options are available in the stage race format.
More news about this type of multiday race on StageRaces.co.uk